Written by Jackspace
Dec 27, 2005 at 01:33 PM
For the pothead who has everything, except pot. These scented candles will have the lady across the hall wondering what's cookin' at your space age bachelor pad. Or maybe you live in a trailer house? In any case, light one of these and you'll think you've landed in Amsterdam, well, OK,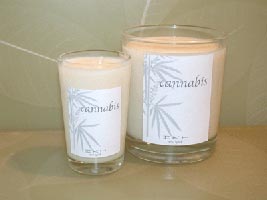 maybe even the high school parking lot.

What I like most about these candles is you can fly your freak flag without getting busted. In fact, you could even start a conspiracy with your friends down the hall to ALWAYS burn these so the R.A. gets tired of coming down and busting you for another false alarm. And if enough people burn them, well then you'd have a movement, and that's what we're callin' it: the Cannabis Candle Concerto Manifesto, in C Flat (used to be B Sharp but that was too predictable).

Some folks actually enjoy the scent of this burning weed. The first time I remember smelling pot burning, I thought someone had left the toaster on too long. After a while I began to be able to differentiate between Skunk #1, Jack Herer, and my dirty laundry. Hopfully these candles will come with the wide variety of 'bouquets' available from the sacred herb. Now if someone would work on a dream pillow that actually does something to your dreams . . .



Last Updated ( Dec 27, 2005 at 03:27 PM )
Read more...
The spectacular event in 2012

Written by Jackspace

Dec 25, 2005 at 06:58 PM
from: Indiadaily.com

Mayans first gave a hint. Extraterrestrial UFO watchers are getting more signs of the same. A spectacular event may unfold in 2012. The type IV extraterrestrial alien civilization may officially reveal their identity and educate human civilization about everything out their! Scientists all around the world are preparing for something spectacular behind the scenes. They will not talk about it, give any hint about it to anyone they do not know but some know very well that 2012 may be the year when the extraterrestrials unveil their hide and seek game and show up finally from the Hyperspace. It may not happen in 2012 but sooner or later it will happen!

Many researchers watching the UFO sightings, flight patterns and extreme increase in the number of natural calamities predict a spectacular phenomenon.

Last Updated ( Dec 25, 2005 at 07:01 PM )
Read more...

Written by Jackspace

Dec 24, 2005 at 08:38 PM
from: Mail & Guardian Online

'Let's take the yellow brick road to Oz." Alexander Shulgin shuffles ahead along the garden path leading out of his back door. At the end, about 27m away, a large squirrel is making its getaway from a ramshackle garden shed.

"The damn squirrel's got in," Sasha -- as he is known -- exclaims. "A new hole, I'll have to patch it up. They just eat their way through wood."

Shulgin built the shed himself, working up from the brick foundations of what was once the cellar of his parents' house on Shulgin Road, half an hour from San Francisco. Now the shed contains his laboratory. It looks almost wilfully disorganised, as if an enthusiastic child -- or perhaps a squirrel -- had been left alone to construct a Heath Robinson vision of a back-garden lab. Classical music gently plays from a radio, a stained wineglass sits atop a mound of papers, evidence of the previous night's endeavour.

Last Updated ( Dec 24, 2005 at 09:57 PM )
Read more...
<< Start
< Previous
1
2
3
4
Next >
End >>
Results 5 - 8 of 13